The global anti-aging market is forecast to reach up to US$271.0 Billion by 2024. The anti-wrinkle product category held the largest share in the anti-aging market, with 59.3% contribution in 2017.
Despite the number of anti-aging ingredients available, there remains a demand for new, scientifically-proven anti-aging products. More than ever, consumers are requiring clinical data to support their decisions and are driving the need for companies to prove that their products are effective. With the skincare market to see significant growth in the foreseeable future, there is an opportunity for scientifically proven, safe and effective ingredients.
Sirona Biochem's Glycoproteins and Glycopeptides
Sirona Biochem's subsidiary, TFChem, has developed a compound library based on the naturally occurring antifreeze glycoproteins found in Antarctic fish. In the late 1960s Professor Arthur DeVries established that the resistance to freezing temperatures in Antarctic fish was due to blood serum glycoproteins that protected the fish cells against the stressful Antarctic environment. TFChem's studies have shown that the synthesized glycoproteins and glycopeptides protect not only against freezing, but also against environmental stressors such as UV light, oxidation and nutrient deprivation.
Anti-Aging 
TFChem has created a library of anti-aging compounds and completed testing of their effectiveness in aging and conditions related to skin cell damage.  80% of visual aging is related to cell death and these compounds can protect skin cells from damage, allowing them to live longer.
Numerous pre-clinical studies have been done on the anti-aging portfolio with intriguing results. In one study, the anti-aging compounds kept 95% of the protected skin cells alive without nutrients for 7 days compared to the unprotected control group where only 8% of the unprotected cells were still alive after 7 days (see graph below). Various other stressors were applied to the compounds in order to fully understand the protection capabilities of the glycoproteins. In stressors such as: oxidative, inflammatory and UV irradiation, the cells continued to survive and in some cases, even thrive when the glycoproteins were added. As resources continue to become available, Sirona will consider which commercial applications to pursue for clinical studies. This will include anti-aging, cell preservation for environmental stress as well as scar therapy.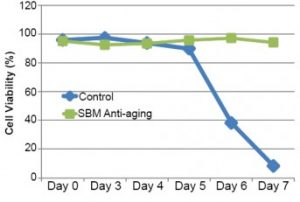 Anti-wrinkle Compound
Sirona's team at TFChem have identified a compound from the library that has a unique mechanism of action against wrinkles. Due to its novel mechanism of action and potential in the market, one compound has taken the lead in the research studies being conducted for a commercial product. This compound is currently in preparation for a clinical trial which includes scale-up and formulation. The first clinical studies will begin in Fall 2022.
Adjuvants for Biological Preservation Status
Part of the glycoprotein / glycopeptide portfolio will be developed as adjuvants to be used for organ, tissue and cells preservation. Research shows that freezing resistance in Antarctic fish is due to blood serum glycoproteins that lower the freezing temperature to below subzero.  This helps inhibit the growth of ice and protects cells from hypothermic damage.  These antifreeze glycoproteins have an unusual structure that can protect species from cold induced damage.
By mimicking these glycoproteins, modified glycopeptides can be developed to protect organs destined for transplant.  Currently, heart and lungs can be preserved for up to six hours, limiting its transport time for organ transplantation.  Modified glycopeptides, may preserve the integrity of organs for a longer period of time, leading to an expanded geographical reach for organ matching and transplantation. Sirona's goal is to develop a family of compounds with specific applications for soft tissue, stem cells, islet cells and other sensitive cells preservation.
Sirona is preparing to enter a clinical study of the lead anti-aging compound in December 2022.
Commercialization
Sirona's expertise lies in creating innovative, proprietary technology which can be leveraged by leading companies within the cosmetic, biotechnology and pharmaceutical marketplaces. Our technology can be commercialized in partnership through, but not limited to, the following types of agreements:
Licensing Agreements
Royalty Agreements
Acquisition of our technology
Joint ventures
For any additional information please contact Michelle Seltenrich at mseltenrich@sironabiochem.com.