Sirona Biochem / TFChem, specializes in the improvement and development of carbohydrate-based molecules through fluorination. Carbohydrate-based molecules offer the immense commercial potential for cosmetics and therapeutics. Sirona's two most advanced programs are the cosmetic skin lightener and diabetes drug. Other projects include the development of an anti-aging / cell protection library, a novel anti-wrinkle compound,  and most recently, the launch of an anti-viral program.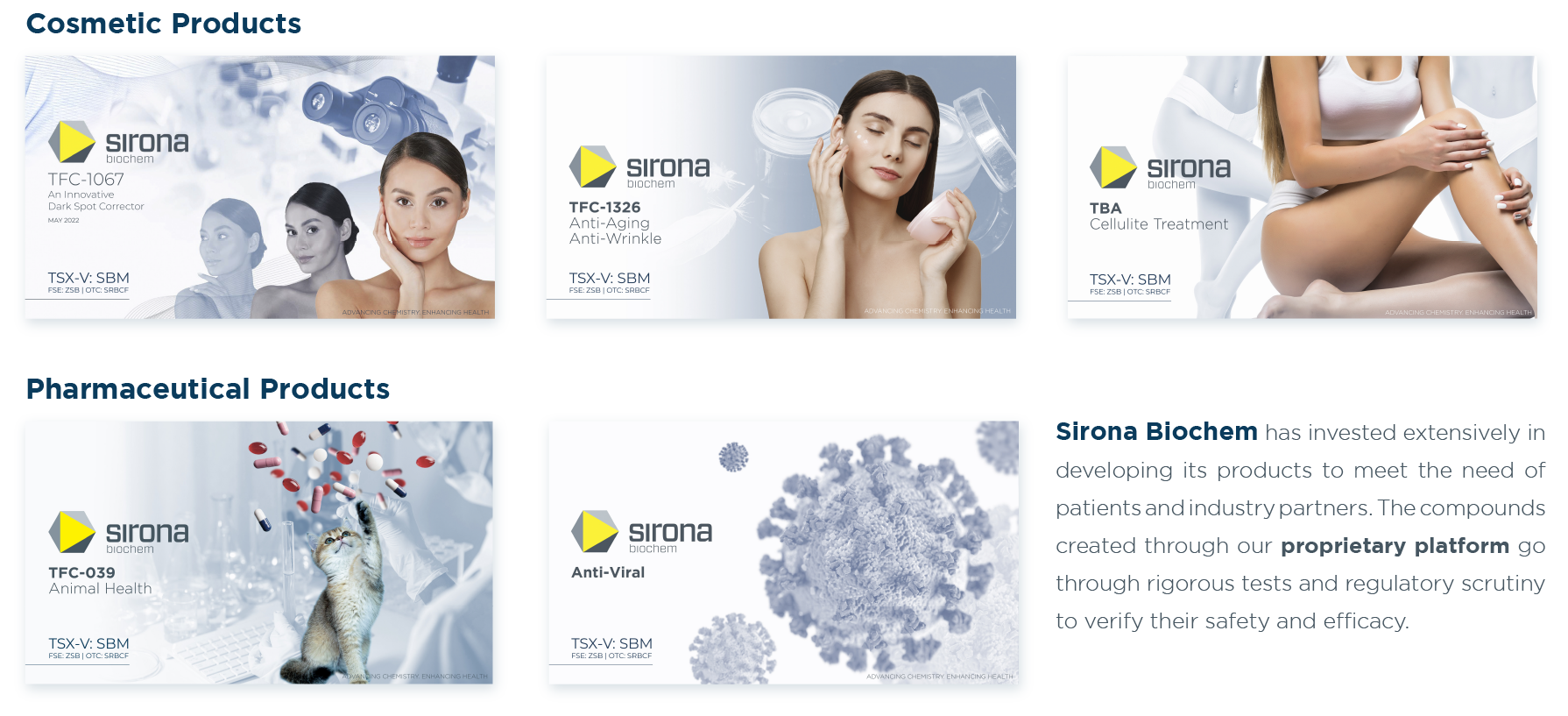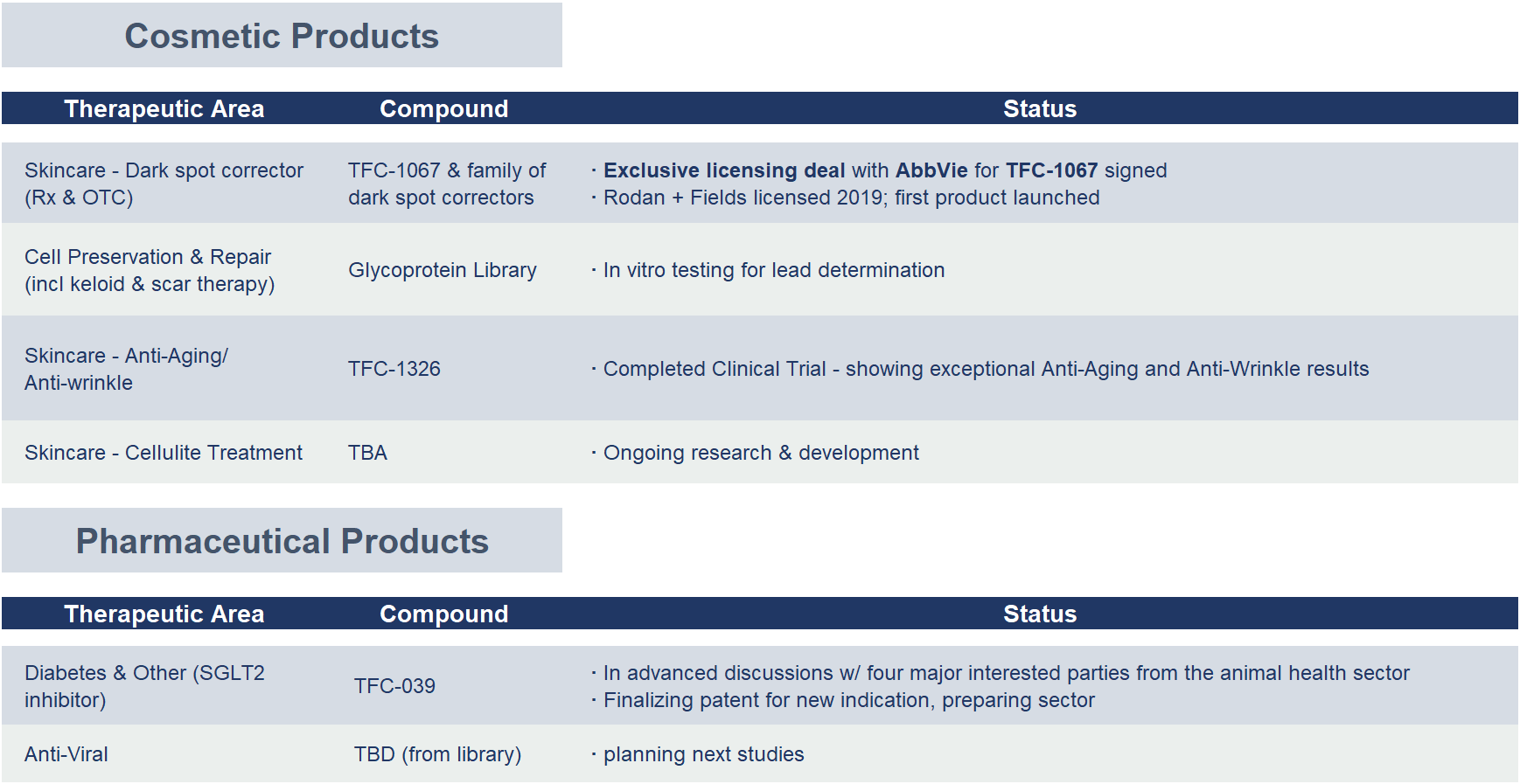 Skin Lightening / Dyschromia: Sirona Biochem has made significant advancements in the area of skin lightening. Recognized for scientific innovation at the laboratory in France, the French government awarded the Company an innovation grant worth CDN$1.9 Million to develop the cosmetic skin lightener program to a commercial-ready stage for the treatment of dyschromia.  The Company identified the compound TFC-1067 as the lead and entered into numerous efficacy and stability studies. In 2019, Sirona completed a clinical study of TFC-1067 against 2% hydroquinone. After positive results, Sirona signed a non-exclusive agreement with Rodan + Fields, the leading skincare brand in the United States[1], for the licensing and commercial sales of novel ingredient TFC-1067 to brighten and even skin tone. Rodan + Fields will be the first to market a consumer product utilizing TFC-1067 in certain countries including the United States.
The Company remains in partnering and collaborative discussions for the compound TFC-1067.
Diabetes:   Sirona's sodium-glucose co-transporter (SGLT2) inhibitor for diabetes, achieved extremely positive preclinical results. In a head-to-head preclinical study, Sirona Biochem's SGLT inhibitor performed better than Johnson and Johnson's canagliflozin (Invokana™), which was given FDA market approval in the U.S. (March 2013) and in Europe (November 2013).  In 2014, Sirona licensed the SGLT2 Inhibitor to Wanbang Biopharmaceuticals (Wanbang) for the development and commercialization of this anti-diabetic inhibitor exclusively in the People's Republic of China (PRC). In exchange for this license, Wanbang has provided upfront and will give milestone payments of up to US$9.5M in addition to royalty payments for product sales. Wanbang is currently in Phase I clinical studies.
Extensive research and development remain underway for the Glycoprotein library. These compounds have shown a potential role in Anti-Aging due to their protection of cells under different stressors, including UV, starvation and oxidative conditions. The lab at TFChem and several CROs are performing assays and analyses of the compounds to move them towards commercialization. Current cosmetic indications of the portfolio include anti-aging and anti-wrinkle creams, scar therapies, and adjuvants in cell preservation solutions.
Sirona Biochem's proprietary chemistry technology has relevance in many therapeutic, cosmetic and biological areas where the potential for development is high.
[1] Source Euromonitor International Limited; Beauty and Personal Care 2019 Edition, retail value RSP terms; all channels, Skincare includes Sets & Kits

| | | |
| --- | --- | --- |
| Global exclusive licensing deal signed with Abbvie's Allergan Aesthetics | In late-stage discussions with four animal pharmaceutical companies | In the process of starting human clinical trials. Signed a limited-production agreement with Wuxi AppTec. |