TFChem has a high degree of expertise in the field of carbohydrate and fluorine chemistry. The company has developed a unique know-how which combines these two technical domains in order to create new drug-candidates based on original carbohydrate mimics. The drug-discovery activity thus builds up the core of development of the company.
TFChem uses the properties of fluorine atoms to develop new glycomimetic compounds through their GlycoMim® technology. Using this technology, TFChem has become a leader in the area of fluorinated glycosides and their application as new, more potent and safer drugs. TFChem brings a unique solution to the severe drawbacks (stability and bioavailability) usually associated with carbohydrate-based drugs and thus allows the full exploitation of their therapeutic potential and the development of new drugs.
TFChem develops and markets its GlycoMim® technology for pharmaceutical and biotechnology companies through licensing and strategical partnerships by offering in its portfolio :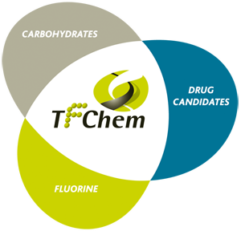 Analogs of existing glycoconjugates.
Neo-glycosylation of active molecules.
New chemical entities (NCE) fluoroglycosylated.
TFChem's proprietary chemistry technology can be applied to the development of several major pharmaceutical domains such as cancer, diabetes, pain and inflammation and cardio-vascular diseases. In addition, our carbohydrate chemistry expertise can be used to develop cosmetic and biological ingredients.
See our CSO, Dr. Deliencourt-Godefroy, presenting at the Adaptations to the Polar Area and Biomimetism conference in France here .