Most diabetics treat their disease by controlling insulin production or regulating blood sugar through the use of medication. A diabetic patient can require up to 10 different medications at a time. Despite this large number of therapeutic options 
many diabetics are unable to control their disease
 and face significant health risks.
Sirona Biochem's SGLT2 Inhibitor 
SGLT2 Inhibitors work differently from other, non-insulin, diabetes therapeutics which increase insulin production in the pancreas and/or affect metabolism.  SGLT2 Inhibitors act in the kidneys to reduce the re-absorption of glucose into the bloodstream. SGLT2 Inhibitors also have the potential to be strong add-on therapies to 
current diabetes treatments
.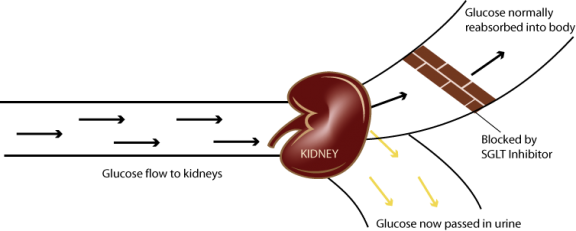 Using proprietary technology, Sirona has developed an SGLT2 Inhibitor (TFC-039) with optimal pharmaceutical characteristics including, but not limited to, enhanced stability, bioavailability, selectivity and/or efficacy. The first SGLT2 inhibitor to receive market approval in the U.S. was 
Johnson and Johnson's SGLT inhibitor, Invokana™ (canagliflozin). 
 Forxiga™ (dapagliflozin), an SGLT2 inhibitor developed by AstraZeneca and Bristol-Myers Squibb 
received European market approval in November 2012
and was approved by the Food and Drug Administration (FDA) for the US market in January 2014. In April, 2019,
Invokana was shown to stall the progression of chronic kidney
disease as well as cardiovascular problems. SGLT2 inhibitors are being further studied for these indications.
SGLT2 Inhibitor Results
Several studies have been conducted to demonstrate the effectiveness and stability of Sirona Biochem's SGLT2 Inhibitor SBM-TFC-039.
In head-to-head preclinical studies, Sirona Biochem's 
SBM-TFC-039 outperformed Johnson and Johnson's canagliflozin.
Commercialization
In January, 2014,
Sirona announced a license agreement for its SGLT2
Inhibitor with Wanbang Biopharmaceuticals in China. Wanbang will develop and commercialize Sirona's anti-diabetic SGLT2 inhibitor exclusively in the People's Republic of China (PRC). In exchange for this license, Wanbang Biopharma has provided an upfront and will recieve milestone payments of up to US$9.5M in addition to royalty payments for product sales in the PRC. To date, Sirona has received $1.5 Million USD from the agreement with Wanbang and development is ongoing in Phase I of clinical trials. Sirona Biochem's SGLT2 Inhibitor remains available for ROW agreements such as:
Licensing Agreements
Royalty Agreements
Acquisition of our technology
Joint ventures
For any additional information please contact Michelle Seltenrich at 
mseltenrich@sironabiochem.com
.